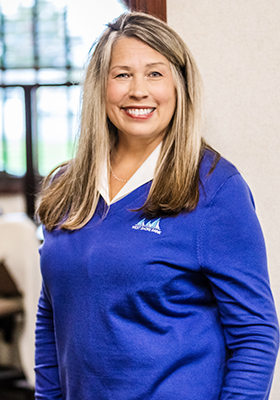 Mary Kaye Wilkosz
[email protected]
MLO# 681377
Office: (231) 309-6464
Alt Phone: (231) 510-1555
Mary Kaye Wilkosz was born and raised in Manistee and she has over 39 years of banking and mortgage lending experience in Manistee County. Mary Kaye is the co-founder of Professional Ladies of Manistee (PLM) and current Board Member of the Home Builders Association of West Michigan and the Manistee County Council on Aging. Previously, she has been a cabinet member for the United Way Campaign, Board President of the Manistee Chamber of Commerce and Love, Inc. Mary Kaye is a current member of the Manistee, Oceana, Mason County Board of Realtors. She strives to offer excellent customer service and she enjoys helping her clients understand the variety of available options to meet their specific needs.
In her free time, Mary Kaye enjoys spending time with her family and friends at the beach or boating, walking her teacup Yorkies Gladia and Isabella, and working on remodeling projects at home.
---
Testimonials
I wish all my mortgage purchases or refinance experiences were handled by Mary Kaye Wilkosz and West Shore Bank. Mary Kaye and the West Shore crew were a delight to work with. They provided the type of service and attention to detail from the very first meeting to a very smooth closing, managing all the bumps in between. She made every interaction count, no matter how small. I would do business with Mary Kaye and West Shore Bank again."
— Ed Horne
As a real estate agent, it is very important to me that all of my clients receive the best possible service, especially when it comes to financing the purchase of their next home. Over the last eight years, I have worked with many lenders – some good and others that offered not-so-pleasant experiences. The process with Mary Kaye Wilkosz is never short of excellent. Mary Kaye has always been not only the most consistent mortgage loan originator, but always keeps our customers well informed and makes their experience second to none. I will always recommend Mary Kaye Wilkosz any time someone needs to finance a real estate purchase."
— Therran Ferguson, Associate Broker (Lighthouse Realty)
"We recently refinanced our home mortgage with the new lower rates. It turned out to be a lengthy process, by nobody's fault. But Mary was with us through it all, customer service at its best. Her guidance and patience was very appreciated!"
— Kenn Kott
"Mary Kaye simplified our mortgage process by walking us through each step and answering any questions that we had. With her assistance, we were able to do most everything electronically at our convenience, which made for an overall simple process."
— Megan Savela
"Mary Kaye made our refinancing experience easy and comfortable. This is the 2nd time we've had Mary Kaye handle a major loan for us. We're very happy with her personality and professionalism."
— Dennis Jankowski
"Back in August 2020 I started researching refinance options. One of the many banks contacted was West Shore. I ultimately went with West Shore and a few weeks ago this process was completed. I was so pleased that I wanted to share this experience. My previous lender was from a notionally recognized bank. When contacted, often would sit on the phone pressing different options and talking to many different departments through their automated system. In short-- very difficult to get answers. West Shore is structured like banks are supposed to; in other words, I call and a person answers. I email and get a timely response. In my case of a refinance, I called and inquired and was connected with a mortgage representative (Mary Kaye Wilkosz) right away. She worked with me from start to finish. She was always polite, professional and responsive. As a result, I am now starting to move other assets over to West Shore. This entire experience was professional and I could either e-mail or speak directly with Mary Kaye all along the way. West Shore Bank is a great institution and very involved in the community, and it shows in the way the employees interact with customers. If asked to give a customer rating from 1-5 it would be 6."
— Rob McColl