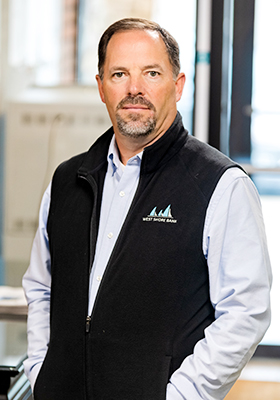 Damon Tondu
[email protected]
MLO# 757266
Office: (231) 352-9655
Toll Free: (888) 295-4373
Fax: (231) 352-9574
Damon joined West Shore Bank as Commercial Lending Relationship Manager with over 23 years of experience in banking and is responsible for developing new commercial loan and deposit business, as well as managing existing loans for the Bank, working out of the Frankfort Branch.
Damon resides in Frankfort, MI with his wife Nancy, and holds a Bachelor of Business Administration Degree in Finance from University of North Texas, Denton TX. Damon's community involvement includes serving as a Trustee for the Frankfort Scholarship Fund. He is a past Board member of the Frankfort Elberta Area Chamber of Commerce and the City of Frankfort Brownfield Redevelopment Authority.
---
Testimonials
LUEDTKE ENGINEERING COMPANY
Our term loan and seasonal line of credit were with a large national bank who made little effort to understand our business, our banking needs, and our requirement for timely decision making. In 2016 we refinanced with West Shore Bank and we now have local individualized service with people we know. They have taken the time to understand and address all of our banking needs.
— Paul L. Luedtke, Secretary/Treasurer
DINGHY'S RESTAURANT
I've enjoyed great customer service from Damon throughout our banking relationship. I maintain both borrowing and depository accounts for my personal needs as well as for the restaurant. I spent a career in banking where I developed a clear understanding of the importance of good customer service, which Damon and West Shore Bank continue to deliver.
— Steve Christian, Owner
MILNE FRUIT
For over 15 years I've been banking with Damon. His professionalism, integrity and responsiveness are what I look for in a banker. Damon is a customer-driven banker who has worked with me to develop good borrowing strategies. I'm always calling him first when it comes time to borrow money.
— Steve Nugent, Director of Frozen Fruit, Dried & Export Sales