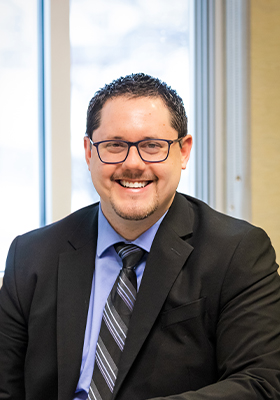 Austin Garcia
[email protected]
Office: 231-845-3500
Toll Free: (888) 295-4373
As a financial advisor at West Shore Bank, Austin Garcia takes pleasure in educating and aiding those in his community to make the financial decisions that are most important in their lives. From carefully calculated investments to retirement planning, Austin takes the time to understand the needs of each client he meets. Although his business cards state financial advisor, Austin takes his role in his clients' lives to heart. Austin understands the stress that can surround financial decisions and is dedicated to easing the tension of financial planning. Clients becoming friends and family is the most rewarding aspect of financial advising to Austin. He not only wants to see success for his clients, but he wants to know when they reach their personal goals and follows through to ensure a successful plan for their future.
Austin is from Port Huron, Michigan, but is ecstatic to now be a Ludington local. He received both his Bachelor's and Master's degrees from Central Michigan University, where he played on the CMU baseball team. After spending his time as a program director and managing grants for a nonprofit organization, Austin found his place in financial advising. He has served as a financial advisor in Mason and Oceana counties, having settled into his role at West Shore Bank.
Aside from financial advising, Austin and his wife enjoy giving back to their community and spend their down time on home projects. Some of Austin's hobbies include painting, fixing and renovating, to hunting, walking, traveling and even skydiving.
---